Eagles Nest Art Group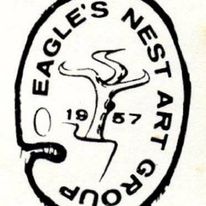 The Eagle's Nest Art Group began in 1957 and continues to support the work of local artists with art shows, programs and classes.  Their studio is located on the second floor of Conover Square Mall, and the group welcomes all who are art-minded to participate in its full schedule of programs and art show opportunities.  Whether you are an experienced artist or a beginner or just interested in art, you will fit into this low-key, friendly group.
A variety of media are represented by many art forms, including oil, acrylic, watercolor, calligraphy, pencil, photography, fiber art and stained glass.  The group welcomes all forms of art.
Following the Columbian Exposition of 1893, a group of artists and writers decided to remain in Chicago and continue to encourage each other's art. They chose to escape the heat and overcrowding of the city by summering at a farm in Bass Lake, Indiana until an outbreak of malaria forced them to seek a new location.
Wallace Heckman, a Chicago attorney and patron of the arts, offered the use of his Oregon, Illinois summer estate, Ganymede Farm. The art colonists visited in the summer of 1898 and entered into a lease that ran for as long as one of the founding members remained alive.
From that summer of 1898 until the death of the last member, Ralph Clarkson, in 1942, the Eagle's Nest Art Colony was a source of beauty, nature, and an endless stream of visitors.
Address:
N 3rd St, Oregon, IL, United States, Illinois
Phone:
(815) 732-7783
Visit Website