Bike Ogle – Rock River / West Grove / Mt. Morris Loop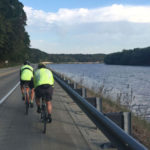 26.3 Miles
A nice shorter loop through a wide variety of scenery. Similar to the Forreston loop, but fewer miles.
Consider a short gravel ride up the hill to Stonghold Church Camp, site of Stronghold Castle. The ride then takes you along the Rock River, through wooded hills, then open fields. West Grove Rd. is considered one of nicest in the county. The ride finishes through historic Mt. Morris and then the roller coaster hills of Oregon Trail Road.  Enjoy.
Ride with GPS: https://ridewithgps.com/routes/9294347
WARMSHOWERS!
Oregon currently has 4 Warmshower hosts for cyclists traveling long distances and looking for friendly accommodations.  Be sure to check them out if you are passing near the area on a long ride…   Learn more about this hospitality exchange for touring cyclists at: warmshowers.org