Bike Ogle – Rochelle / Chana Loop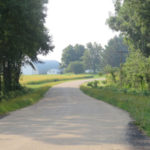 42.3 Miles
One of the longer, yet easier loops to ride. This route stays on lightly traveled roads in the eastern half of the county and as a result has very few hills.  Yet it encounters some very interesting landscapes, communities, and history. The ride is flat and fast, but with good points of interest.
Rochelle is at the turnaround point.  An easy 1/2 mile turn to the left on Flagg Rd. provides the interested cyclist with a few extra miles if they wish to explore the town's community bike trails, skydiving club, and acclaimed rail viewing station.  This would truly provide a full day experience.
Ride with GPS: https://ridewithgps.com/routes/9430940
WARMSHOWERS!
Oregon currently has 4 Warmshower hosts for cyclists traveling long distances and looking for friendly accommodations.  Be sure to check them out if you are passing near the area on a long ride…   Learn more about this hospitality exchange for touring cyclists at: warmshowers.org