Bike Ogle – Polo / Mt. Morris Loop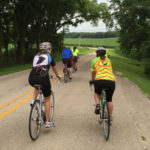 40.1 Miles
This loop captures the countryside of western Ogle County: wide and deep valleys and more woods and pastures than typical of the east side of the Rock.
You travel through two very pleasant rural communities with interesting history and buildings as well as shops, food and drink. Take note of where the Stengel Bike Trail starts in Polo, and consider it as an add-on or for a return trip.
Ride with GPS: https://ridewithgps.com/routes/9428632
WARMSHOWERS!
Oregon currently has 4 Warmshower hosts for cyclists traveling long distances and looking for friendly accommodations.  Be sure to check them out if you are passing near the area on a long ride…   Learn more about this hospitality exchange for touring cyclists at: warmshowers.org