Bike Ogle – Paynes Point / Stillman Loop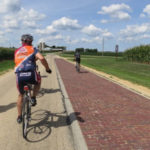 29.7 Miles
With the exception of a short steep hill to get you above the Rock River valley, this loop provides a great ride through slightly rolling countryside. The views across the miles-wide shallow valleys are unmatched in grandeur.
And as a bonus, this loop takes you by a little known, but somber historical site in Stillman Valley which records the first battle of the Blackhawk Indian War in 1832. The Chicago Blackhawks take their name from this Indian warrior who unsuccessfully attempted to return his tribe to its native lands. Many other references to this man continue in today's culture, but few people have a true understanding of their origin.
Ride with GPS: https://ridewithgps.com/routes/9308431
WARMSHOWERS!
Oregon currently has 4 Warmshower hosts for cyclists traveling long distances and looking for friendly accommodations.  Be sure to check them out if you are passing near the area on a long ride…   Learn more about this hospitality exchange for touring cyclists at: warmshowers.org