Lowden State Park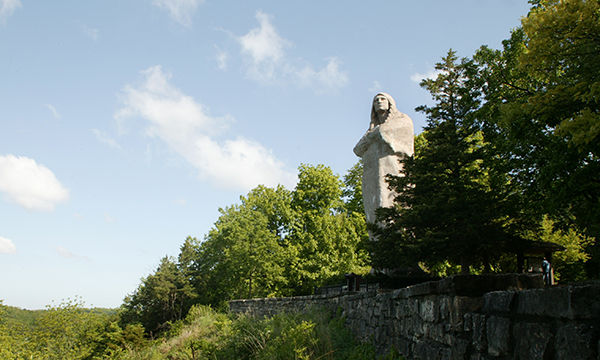 One of the most picturesque sites along the Rock River is just north of Oregon in Ogle County. Legend has it that Chief Black Hawk, as he left the area after the Black Hawk War, talked of the beauty of the area and admonished his captors to care for the land as he and his people had. Lowden State Park was established to care for the land and allow visitors to share in the beauty as well. The park serves as a memorial to Gov. Frank O. Lowden, who served Illinois during World War I.
Just north of Oregon, the bluffs are graced with a majestic image of an American Indian gazing over the Rock River Valley. This is no ordinary statue. It is a 50 foot, concrete-reinforced wonder that is awe-inspiring. A tribute to all Native Americans, but more commonly associated with Chief Black Hawk, the statue was designed by sculptor Lorado Taft. You can enjoy many wonderful views of the Rock River from the park, but the best view of the statue is from IL Rt. 2. While the setting sun seems to bring the statue to life, it is a spectacular view any time of the day and during all seasons.
History
In 1898 Chicago attorney Wallace Heckman, who also was assistant manager of the University of Chicago, purchased the land that was to become Lowden State Park. He and his wife had developed a great love of the outdoors while college students. In Chicago society, the Heckmans also became patrons of the arts. They combined these two interests as an artists' colony established on their Rock River property. The colony was called "Eagles' Nest," referring to a tall, dead cedar tree that clung to the high river bank. The bare, outstretched limbs of the tree inspired Margaret Fuller, a poet of the Concord Group, to write the poem,"Ganymede to His Eagle."
For nearly 50 years, Eagles' Nest was a popular home for creative people. The original group included artists Ralph Clarkson, Charles Francis Browne and Oliver Dennet Grove; writers Hamlin Garland, Henry B. Fuller and Horace Spencer Fiske; architects Irving D. and Allen B. Pond; sculptors Lorado Taft and Nellie Walker; organist Clarence Dickinson; and University of Chicago Secretary James Spencer Dickerson. Although Taft was the moving spirit behind the colony, it continued to flourish until 1942, six years after his death.
About a year after the last of the artists and their families left the colony, Gov. Lowden died, and the legislature appropriated $25,000 toward the cost of a memorial to him. The citizens of Oregon and the vicinity, with help from the now Department of Natural Resources, matched that amount so that the former Eagles' Nest land could be purchased as a memorial park. In 1945, the 63rd General Assembly designated the 273-acre site as Lowden State Park.
Six years later, the 66 acres that composed the actual Eagles Nest Colony were transferred to Northern Illinois University at DeKalb for use as a outdoor teacher education program. The site, called the Lorado Taft Field Campus, was renovated by NIU's Industrial Arts classes and is used year-round for conducting natural science classes in an outdoor setting.
The Statue
Lorado Taft, who created the 50-foot statue as a tribute to Native Americans, is said to have thought of the figure one evening as he and other members of the Eagles' Nest colony stood gazing at the view from the bluffs. According to a story attributed to Taft, he and his colleagues tended to stand with their arms folded over their chests. The pose made him think of the Native Americans who were so reverent of the beauty of nature and who probably had enjoyed the same view.
With the help of John G. Prasuhn, a young sculptor of the Chicago Art Institute, Taft created a figure almost 50 feet tall, including a six-foot base. Reinforced with iron rods, the hollow statue is 8 inches to 3 feet thick. The interior is accessible to park employees through a door at the base. The outer surface composed of cement, pink granite chips and screenings, is three inches thick.
The figure is estimated to weigh 100 tons and is thought to be the second-largest concrete monolithic statue in the world. Although Taft dedicated the statue to Native Americans, it has become commonly associated with Black Hawk.
Picnicking
You can enjoy the beauty of Lowden State Park any time of the year, and the picnic areas are open year-round. Conveniently located near the parking lots, the areas include tables, drinking water, park stoves, outdoor toilets and litter cans.
Camping
There are 80 Class A campsites which include electricity, a shower building, and a sanitary dumping station for trailers. Another option is the campground cabin which has two sets of bunk beds, a full-sized bed and electricity. Reservations are taken for the campsites and cabin at www.reserveamerica.com
Also available, are 38 Class B/S campsites which do not offer electricity, but do have access to showers. For the true wilderness experience, there are 8 Class D primitive hike-in only campsites.
During the summer, a refreshment stand provides cool drinks, ice and wood. Contact park staff upon arrival for a camping permit.
Trails
Almost 4 miles of good foot trails lead visitors through the natural wonders and beauty of the park.
Boating and Fishing
The scenic Rock River flows through 34 miles of Ogle County, with an average midsummer depth of 3 feet. A new launching ramp and boat docks are located across the river from the park, 1 mile north of the town of Oregon on IL Hwy 2. Motor boaters and water skiers will enjoy all the river has to offer, but swimming is not permitted. Boat fishermen can spend their time catching largemouth and smallmouth bass, bluegill, sunfish, crappie, channel catfish, northern pike, walleye, bullhead, carp, sucker and drum.
While groups of 25 or more are welcome and encouraged to use the park's facilities, they are required to register in advance with the site office to avoid crowding or scheduling conflicts.
At least one responsible adult must accompany each group of 15 minors.
Pets must be kept on leashes at all times.
Actions by nature can result in closed roads and other facilities. Please call ahead to the park office before you make your trip.
We hope you enjoy your stay. Remember, take only memories, leave only footprints.
For more information on tourism in Illinois, call the Illinois Department of Commerce and Community Affairs' Bureau of Tourism at 1-800-2Connect.
Telecommunication Device for Deaf and Hearing Impaired Natural Resources Information (217) 782-9175 for TDD only Relay Number 800-526-0844.
Address:
1411 N River Road, Oregon, IL 61061

Phone:
815-732-6828
Hours:
Lowden Memorial State Park can be reached from I-39 and I-88.
If traveling north or south on I-39, exit #104 on Rt 64 west 16 miles to Oregon, take River Rd. right two miles to Park. If traveling west on I-88 , exit on to I-39 north five miles to Exit #104, Rt 64 west 16 miles to Oregon. Right on River Rd two miles to Park. If traveling east on I-88, exit at Dixon on Rt #26 north to Rt 2 in Dixon. Take Rt 2 north 18 miles to Oregon. Take Rt #64 in Oregon east across Rock River. Left on River Rd two miles to Park. If traveling south on Rt 2 to Oregon, left on Rt 64 across Rock River. Left on River Rd two miles to Park.