Bike Ogle- Gravel / Chip / Hill & Rock River Loop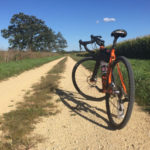 43.2 Miles
The toughest ride of the bunch, designed with the more adventuresome cyclist in mind. Gravel roads, deep countryside valleys, a lot of hills and a lot of miles.
A great conditioning ride when getting in shape for just about any type of cycling competition. Experience the country up close and personal. Able to see things few others know are there.
Ride with GPS: https://ridewithgps.com/routes/9430612
WARMSHOWERS!
Oregon currently has 4 Warmshower hosts for cyclists traveling long distances and looking for friendly accommodations.  Be sure to check them out if you are passing near the area on a long ride…   Learn more about this hospitality exchange for touring cyclists at: warmshowers.org